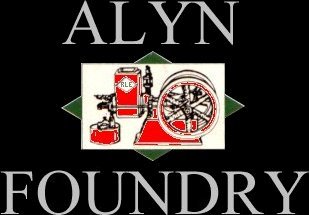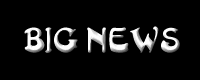 The prototype quarter-scale Hornsby Akroyd engine ran for the first time today (28th May '99). Pictures to follow shortly, watch this space....
After what seems like a lifetime!!! here as promised are the pictures of the nearly finished Hornsby Akroyd at quarter scale. The flywheel diameter is 11" and the bore and stroke are 1 5/8" by 2 1/2". This is a side view, the starting fan drive assembly is not yet fitted and the governor linkages have not been made yet. The engine runs on Paraffin (Kerosene) and will sustain a run of 15 minutes after the lamp is extinguished.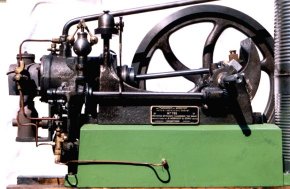 Here is a view of the "business end" showing the fuel pump and injector, this is nearly in the realms of watch making!!!, and realy does work. Note the starting lamp, it's design predates the use of a pressure blowlamp. It was filled with fuel and lit, then a gradually increasig air flow was provided by the centrifugal fan fitted in the engine base.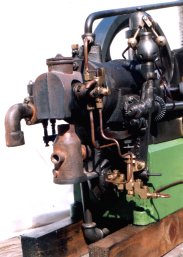 ---
Here are some examples of new products soon to be available on the market.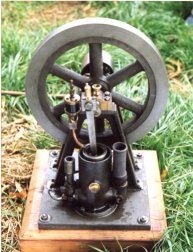 Isac F Allman's 1891 Patent Gas Engine at approximately half scale, this engine was never built at that time. I used the patent specification drawings to build this model.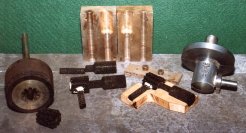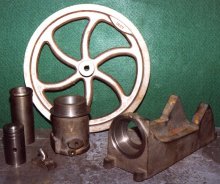 This is the progress to date of my quarter scaling of probably the smallest hot-bulb oil engine in the world... EVER
And now for something completely different, CHUK a flame licker engine that realy works on a little flame!!!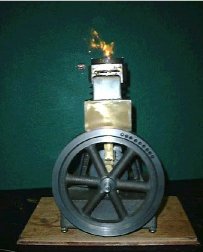 Here is a side view of CHUK, beleive it or not the engine is doing nearly 700 rpm!!!!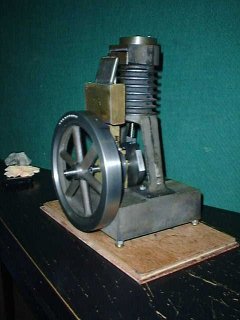 CHUK is now becoming a family. Seen here are two vertical and the new inverted vertical, a horizontal version will be appearing soon.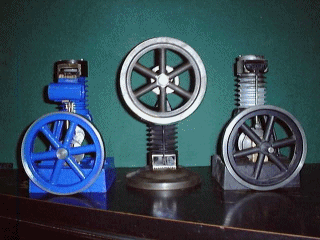 As promised here is the CHUK family, from left to right, CHUK 1, CHUK 3 and CHUK 2. All engines as you can see are based on similar stock castings, with just a simple variation to make the different design. All work on the same princple, Vacuum, atmospheric pressure being the prime force for motion.

The story continues, I have caught the Flame licker bug! here is a picture of Nattie, a minature National Gas Engine, still in prototype stage at the moment. The engine runs fitfully and will require further "twiddleling" to get it right. It is the flame admission that is the critical element, and the relieving of the spent fluid effectivly that dogs the smaller engines. I must add that Chuk is not affected in this way as a seperate relief valve is incorperated in the design that completely discharges any waste making them the most reliable Flame licker design to date.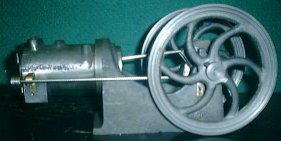 For details of casting kits available please email at acme@random60.freeserve.co.uk.
---
Site Design by Errol 1999